Aiming for a striking storefront sign comes easy today with the many available products for every purpose. Neon signs are still in the top spot for the best choices of lighting fixtures. They are easy to maintain and can stand being lit all night long.
The cost of neon signs varies based on their sizes. Larger signs could cost you more as you add more letters to the signage. Now if you're concern lies in its level of energy consumption, then there's good news coming your way.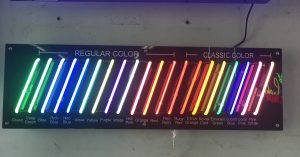 A red neon light's typical energy consumption is at 3 1/2 to 4 watts per foot. If you have a business that needs your signages to attract customers till dawn, neon lights offer competent numbers than fluorescent models.
If you continuously run a sign for 12 hours, a foot of red neon sign would typically use about 15.33 to 17.52-kilowatt-hours of electricity per year while a fluorescent one will take up 50 percent more than that. These figures might not seem much at first, but if you count the annual rates, then there's the real deal.
As of 2019, the cost of energy per kilowatt-hour is at $.12.
Considering the numbers above, you'd have to pay $320 per year to run a fluorescent sign and $210 per year to run a neon sign.
Neon signs offer efficient power consumption advantages to its users. It uses less power, and when you calculate the rates, neon signs can be one of the cheapest options you have for that lit storefront you want.