If you go to big cities like Los Angeles, you can see buildings illuminated with bright neon signs at night. These attractive signages can fascinate you rather than hurt your eyes. But, have you wondered how do neon signs have different colors?
When an electric current is introduced in a tube filled with gas like neon, it produces heat and the energy produced emits light. This is how neon lights work.
So, if you wonder how neon signs have different colors, you may start to think of it as a science lab experiment.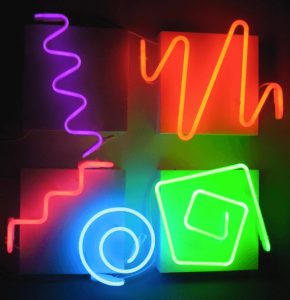 Gases produce a specific color when heated. With neon signs and neon lights, the neon sign makers use gases like neon, argon, helium, krypton, and xenon. Each of these gases emits a specific color that brights up the gas discharge tube.
Get to know what color a specific gas produces:
Neon – shades of red, deep red or crimson red
Helium – orange
Argon – lavender or blue
Krypton – green or gray
Xenon – gray
Mercury vapor – light shades of blue